We love sharing our extensive knowledge on everything related to SFX make-up with people who are interested to learn more about it.
In the past we have given seminars and workshops for special interest groups (Factory Media Centre's Film Camp, Hamilton Film/Video Makers), at conventions (Dark Carnival) and for students learning the trade (Sheridan College).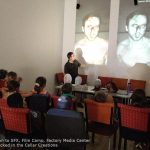 Topics include:
"History & Development of SFX Make-up" (seminar);
"A Closer Look at Famous Make-ups" (seminar);
"An Introductions to Special Effects" (seminar for kids);
"Casting & Prosthetic Making" (workshop);
"Successful Halloween Make-ups" (workshop).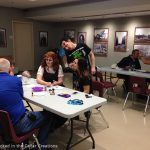 Other seminars/workshops possible. Contact us for more information & quotes.