We created The Kill Shack as a unique interactive photo experience, great for horror-themed conventions or events.
The eye catcher of this 'creepy cabin in the woods' set is the blood stained butcher table with the mutilated corpse of a hitch hiker. All around the walls you'll see the killer's collection of tools and mementos of past victims.
Guests are invited to come in and dress up like a maniac with the blood splattered aprons and splatter shield, after which they can pose like a true psycho killer holding an array of bloody weapons. They can even open up the corpse's chest and pull out his heart for an extra gory effect!
Celebrity Photo op
We have hosted celebrity photo ops in the Kill Shack on several occasions, welcoming Leatherface actors Dan Yeager and Bill Johnson, as well as Jason Voorhees actors Steve Dash and C. J. Graham.
Kill Shack variations
Evil Dead Cabin: Niagara Falls Comic Con 2019 hosted Bruce Campbell as one of the VIP's. For this occasion we gave the Kill Shack a complete make over into the Evil Dead Shack! There are trap doors, chainsaws, tape recorders and all the other props you're familiar with from the movies, including the Necronomicon of course!
The Evil Dead Cabin Photo Op will return to Frightmare in the Falls 2019!
Jason's Kill Shack: Upon special request from the organizers of Frightmare in the Falls, we created Jason's Kill Shack. The left side remains unchanged with the table with the mutilated hitchhiker corpse, and in the right corner we added Pamela Voorhees's shrine, including dear mommy's head, clothes, an array of candles, and a pile of corpses underneath.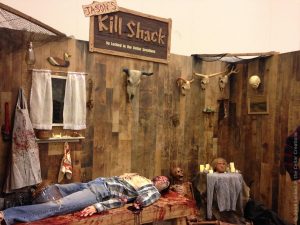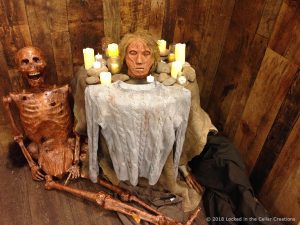 Tea with Granny: Loosely inspired by Hitchcock's Psycho, we invite you to have tea with dearly departed grandma. Bugs are wreaking havoc in this scene, and can be found all over the tea set and shire. In the corner stands a creepy grandmother clock, showing that it's almost midnight… This set up is less gory than the regular Kill Shack, but no less macabre!
Set Properties
The standard Kill Shack set fits in a standard 10′ x 10′ space (inside width: 8′). The walls are 8′ tall. It comes with vinyl flooring, and with flickering lights if electricity is provided. If desired, we can make the Kill Shack 4′ wider, as you can see in the pictures of "Jason's Kill Shack".