Beyond Hell is a feature film by Canadian film makers Dark Spirit Films. We've had the pleasure of working on this movie since we were brought on board in 2015.
Beyond Hell tells the story of a group of friends who inadvertently open a portal to a demonic dimension while using an experimental drug.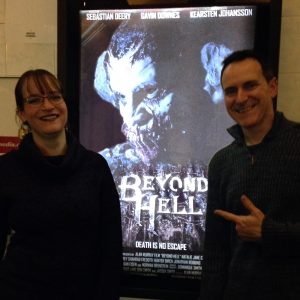 We at Locked in the Cellar Creations are responsible for the make-up for the main demon in the story: Belial.
After having to keep him under wraps for the duration of the production, we're now finally allowed to talk about him and show you what he looks like!! ->
We also did the make-ups on some of the back ground demons and corpses.
Last week, we attended the first test screening, and are very excited about how it turned out!
The movie will be released in 2019, and the first screening will be at Shock Stock in London, ON on Sunday April 28, 2019.
We'll keep you updated as more dates are announced.