Are you in need a portable graveyard? Our Cemetery display is light-weight and can be fit into a 10×10′ space! It is hand crafted with great attention to detail, out of mostly recycled materials.
The "Restless Souls" Cemetery contains a full size mausoleum with the inhabitants in the process of breaking out, a dirty old concrete tomb with a corner chipped off (and a corpse crawling out), zombies, a number of movie inspired tomb stones, and a welcoming Reaper, all surrounded by a creepy old rusty fence. (See below for a video of the full 10′ set)
Additionally, we aim to add new elements to the graveyard every time we set it up.
Photo Contest
We offer the Haunted Cemetery as an interactive photo-op, or for any other occasion that would require an instant graveyard. Visitors love that they are allowed to walk in and look around, and that they can get hands on with stunt corpses Ben and Beulah. We added a social media photo contest to the graveyard display to make the guests feel involved and challenged to take creative pictures.
These are the winners of the FanExpo 2016 Photo Contest:
Scary Creepmas!
We created a Christmas themed version of the Cemetery Display, upon special request by the Strange and Astounding Show in Oshawa, ON.
The Creepmas Cemetery includes fake snow on all surfaces, and most importantly a Zombie Rudolf surrounded by tombstones of all the other reindeer.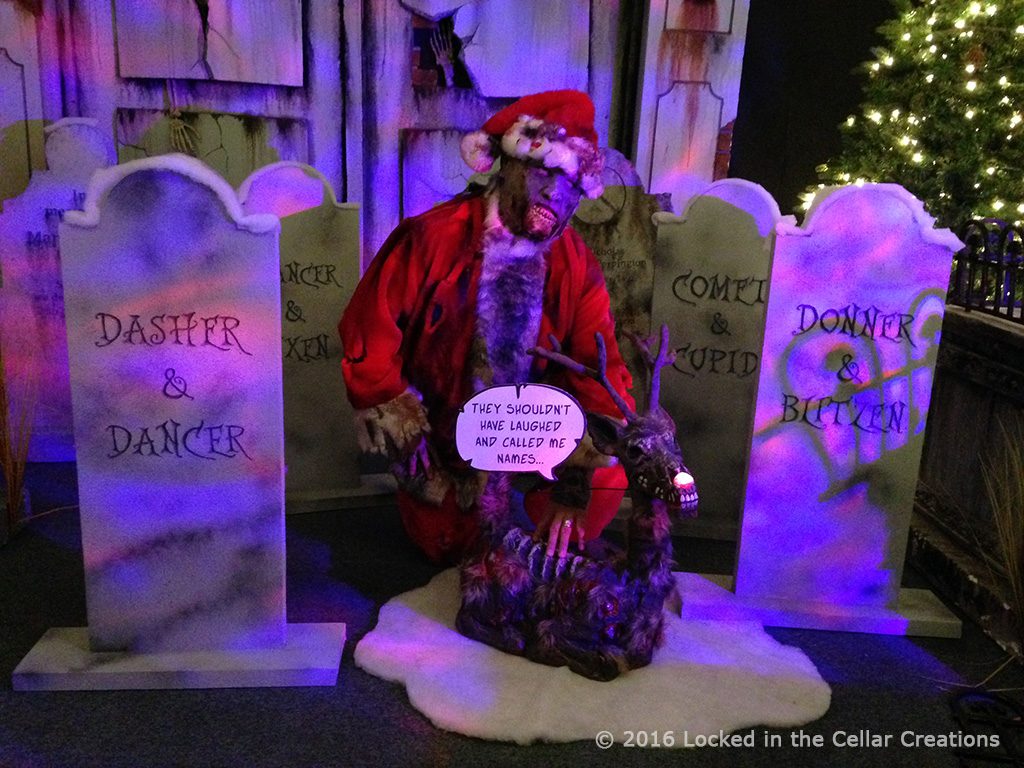 XL Cemetery Display
Everything in the cemetery is hand made, so it is customizable to any venue. We can scale the Cemetery up or down upon request and add certain elements if desired.
So far, our largest set up has been at Frightmare in the Falls 2018, where the 20×20′ Cemetery welcomed guests at the entrance of the event hall. The larger set allowed for better accessibility, as well as for multiple groups taking their pictures at the same time.